An enjoyable time in the mountains
Explore nature while hiking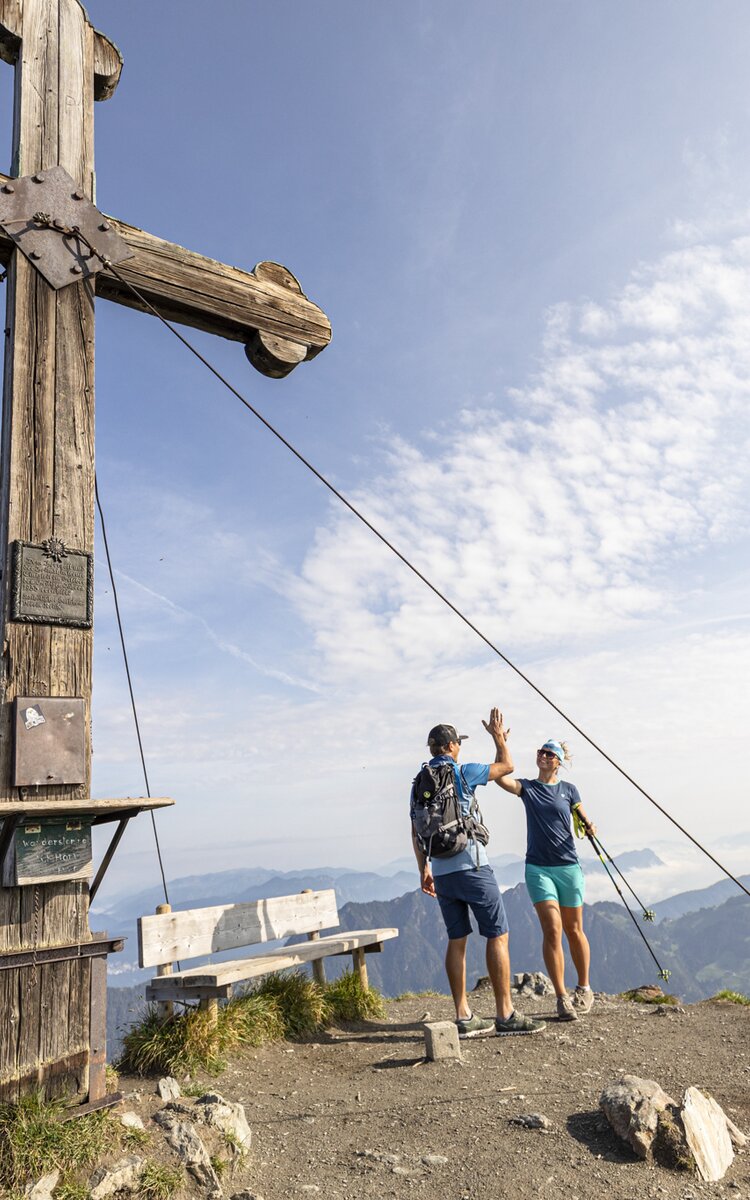 Four mountains, two valleys and around 1,200 kilometres of diverse hiking trails: The Ski Juwel Alpbachtal Wildschönau is a hiker's paradise in the truest sense of the word. Active nature lovers can choose from a wide variety of tours in all difficulty levels.
Diverse trails in the mountains
Between rugged peaks and lush green meadows
Do you like to climb rugged peaks with extremely steep ascents? Or do you prefer leisurely tours along lush green meadows and alpine pastures? The hiking areas in the Alpbachtal and Wildschönau offer wonderful routes for either preference.
One route in the Alpbachtal that more than lives up to its name is the Panoramaweg Wiedersberger Horn. The tour starts with a ride on the Wiedersbergerhornbahn cable car. Then you follow the trail towards the summit. Immediately after arriving at the cable car station, you can choose to walk around Wiedersberger Horn either to the left or to the right.
Hiking in the Wildschönau
The Wildschönau mountain world is characterised by gently undulating hills, alpine pastures and beautiful forest trails. Scattered throughout the landscape are numerous traditional alpine huts that invite you to stop and take a relaxing break.
Hiking highlights in the Wildschönau
Hiking routes from easy to challenging
From challenging routes such as the one to Sagtalerspitze to leisurely routes such as the Schatzberg loop: In the Alpbachtal and Wildschönau, you can discover the fascinating Tyrolean mountains at your own pace.
Tip for families with children: A hike through Juppi Zauberwald in Reith im Alpbachtal is great fun, especially for young nature lovers.
Go to tour planner
The interactive summer panorama map
Which hiking trails lead to the summits? Are the cable cars and lifts already in operation and are the huts currently open? Pictures say more than 1,000 words, and the interactive map answers all these questions.
Go to the hiking map
The mountains are already calling, but ...
Before you head out on your hike, we would like to give you a few helpful tips for your time in nature. On the one hand, the picturesque alpine pastures and mountain meadows invite you to go on exciting tours of discovery – on the other hand, they are also important habitats for wildlife and grazing animals such as cattle and sheep.
What should you take with you for a hike?
Once you have internalised the above rules of conduct, the only things missing are the appropriate gear and a well-packed rucksack. For a day hike, we recommend bringing the following items:
sturdy shoes with good tread (hiking or trekking shoes)
hiking socks
warm clothing (fleece jacket or pullover)
rain gear
sufficient water (Note: Children need more fluids!)
snacks (preferably snacks that do not melt or are sticky)
change of clothes
plastic bag to pack rubbish, etc.
bandages (plasters, gauze, rescue foil, adhesive tape)
cash
sunglasses and sunscreen
a packet of tissues
smartphone
optional: binoculars, magnifying glass, games, rubbing alcohol in case of sore muscles, walking sticks
10 rules of conduct for the safe interaction with grazing animals
The following rules of conduct have been defined for a harmonious coexistence with grazing animals:
Avoid direct contact with grazing animals, do not feed them and keep a sufficient distance!
Move in a calm and cautious manner so as not to frighten the animals!
Mother cows are very protective of their calves. Make sure that any dogs you bring along do not come into contact with mother cows and their young!
Always keep your four-legged friends on a short leash near the pastures. If an attack by a grazing animal is foreseeable and unavoidable: Immediately unleash them!
Stay on the marked hiking trails during the entire tour!
If a grazing animal blocks the trail, make sure to pass it at the greatest possible distance!
Keep calm if grazing animals approach you. Slowly move away from them, but do not turn your back on them!
As soon as the first signs of restlessness of the animals are noticeable, you should leave the grazing area calmly but quickly!
Fences must be respected! If there is a gate, use it and close it! Cross the pasture quickly but calmly!
Treat farm and forest workers, nature and animals with respect!
7 tips for your hike
Pack only the most important things and remove unnecessary items from your rucksack!
Use the first 30 minutes of the hike as a warm-up and to slowly adjust to the movement!
Take enough breaks! (Guideline: Rest for ten minutes at least every two hours.)
Be sure to drink and eat enough during the tour!
Always stay on the marked trails!
Listen to your body and respect your limits (especially when accompanied by children).
In case of an emergency, stay calm and call the mountain rescue as soon as possible (European emergency number: 112, mountain rescue: 140).
Helpful apps
Hiking checklists for mountaineering and long-distance hiking as well as for family hikes
Information on the emergency app for alpine emergencies (Link to download the app in iTunes and the Google Playstore)
Enjoyable moments while hiking
Besides reaching your destination and the unforgettable experience in nature, stopping for a break is one of the most pleasurable moments of a tour. In the Alpbachtal and Wildschönau, you can treat yourself to Tyrolean delicacies in numerous huts: From Brettljausen to Tyrolean Kasnocken to Kaiserschmarren, there is something for every taste!
More about the local mountain huts