winter fun for everyone
Family winter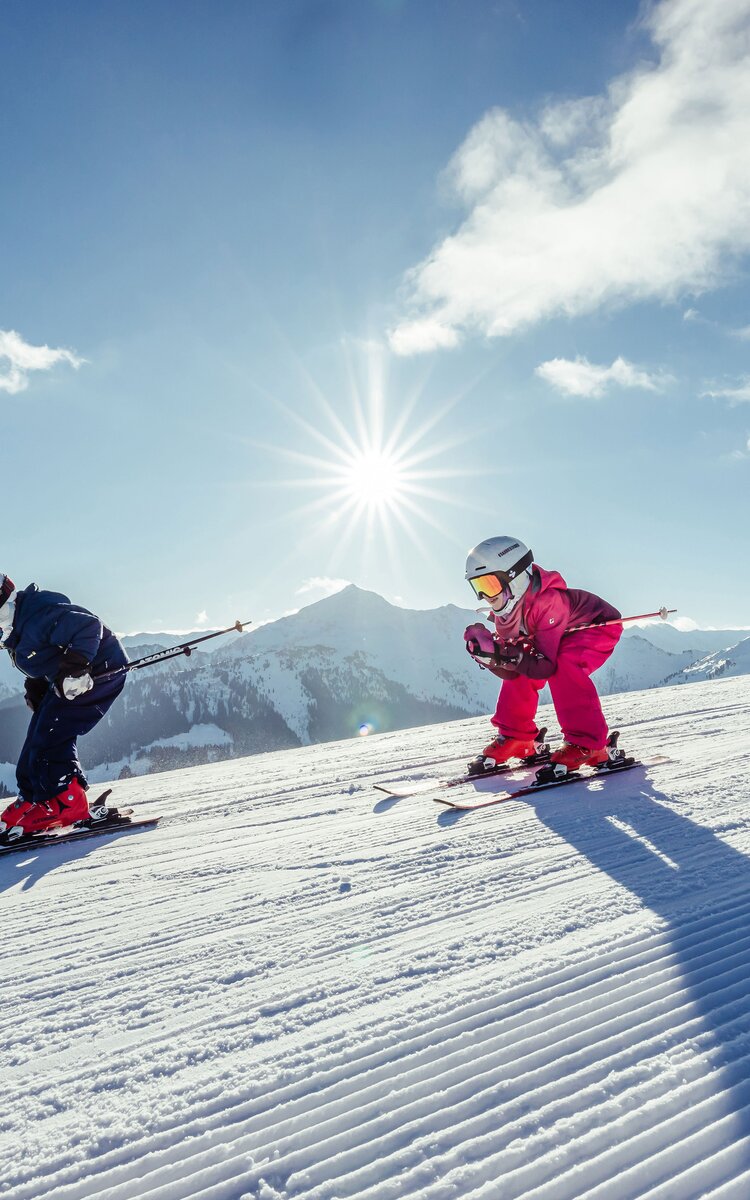 Lifts and slopes especially for children
Child-friendly skiing fun
If your child's smile is as bright as the glistening snow, then your little one is probably in the middle of the wintry Ski Juwel Alpbachtal Wildschönau. In the ski area, which has been awarded for its family-friendliness, children have tons of fun on the beginner-friendly slopes. But that's not all: Off the slopes, lots of enjoyable activities are waiting for families!
Children who are just about to take their first turns on skis will feel completely at home in the Ski Juwel Alpbachtal Wildschönau. The large number of flat beginner areas and special children's slopes ensure they get a gentle introduction to winter sport in all its facets.
Lifts and pistes for children
Lifts and slopes for children and beginner skiers
Acherfeldlift at the valley station of Pöglbahn cable car with a 100-m slope
Juppi Do conveyor belt and Brandachlift in Reith im Alpbachtal with short, flat runs down into the valley
the blue run from the Reitherkogelbahn cable car to Hochlift
the blue run from the top station of the Wiedersbergerhornbahn cable car to Kohlgrubenlift, as well as the blue run to Muldenlift
Böglerlift between Congress Centrum and Hotel Böglerhof with a beginner-friendly slope
the children's and beginners' area at Koglmooslift including a practice lift with spacious, wide slopes
beginners' slopes with short lifts next to the Markbachjochbahn cable car valley station
Pfarrfeldlift and Schießhüttllift as beginner-friendly lifts with flat slopes and plenty of opportunities to play in the snow
child-friendly lifts and slopes at Roggenboden in Oberau
the spacious Schatzberg Zwergenland children's area right next to the Schatzbergbahn cable car middle station
More experienced children can take on the challenge of the adventurous "Kids Run" with its numerous figures, waves and banked turns. Equally exciting: the "Märchenwiesenabfahrt" (Fairytale Meadow Run), which is perfectly accessible with the Tennladen practice lift.
Got to the child-friendly lifts and slopes
Learning to ski at Ski Juwel
Teaching someone how to ski has to be learned too: In the Ski Juwel Alpbachtal Wildschönau, there are numerous children's ski schools where the youngest beginners can dabble in the sport and be taught by professionally trained ski instructors. They know exactly what methods to use to teach children how to ski..
Special children's areas ensure that the lessons are also a lot of fun. The best example of this is the Juppi Do children's area, where young skiing fans learn to ski with the help of conveyor belts, in obstacle courses and on various special trails.
Good to know: If Mum and Dad want to hit the slopes on their own, their little ones are in excellent hands in the on-site childcare facilities.
Ski schools
Your family ski day in numbers
Who has covered the most kilometres on the slopes? Which family member swooshed down the ski runs the fastest? On the Skiline website, you can do a speed check or look at altitude graphs after your day in the snow.
To make sure you'll remember this exciting day for as long as possible, we recommend stopping at the photo point on Wiedersberger Horn in the Alpbachtal. That's where you can snap a fun family photo that you can later access online and send to friends and family.
Skiline details
Certified Tyrolean ski area for families
Top pistes, first-class infrastructure, everything tailored to the needs of families: Tyrolean quality-certified family ski regions go all out for an unforgettable winter holiday for parents and children. All regions meet high standards so that their guests can enjoy a carefree winter sports time. The ski area, gastronomy, snow sports schools, ski rentals and accommodation are all geared towards families seeking relaxation - this is guaranteed by the demanding criteria of the certified family ski regions. For guests, this means: Arrive, change and simply head off into the snow - this is how to enjoy a winter holiday.
You will find more information on the family ski regions here.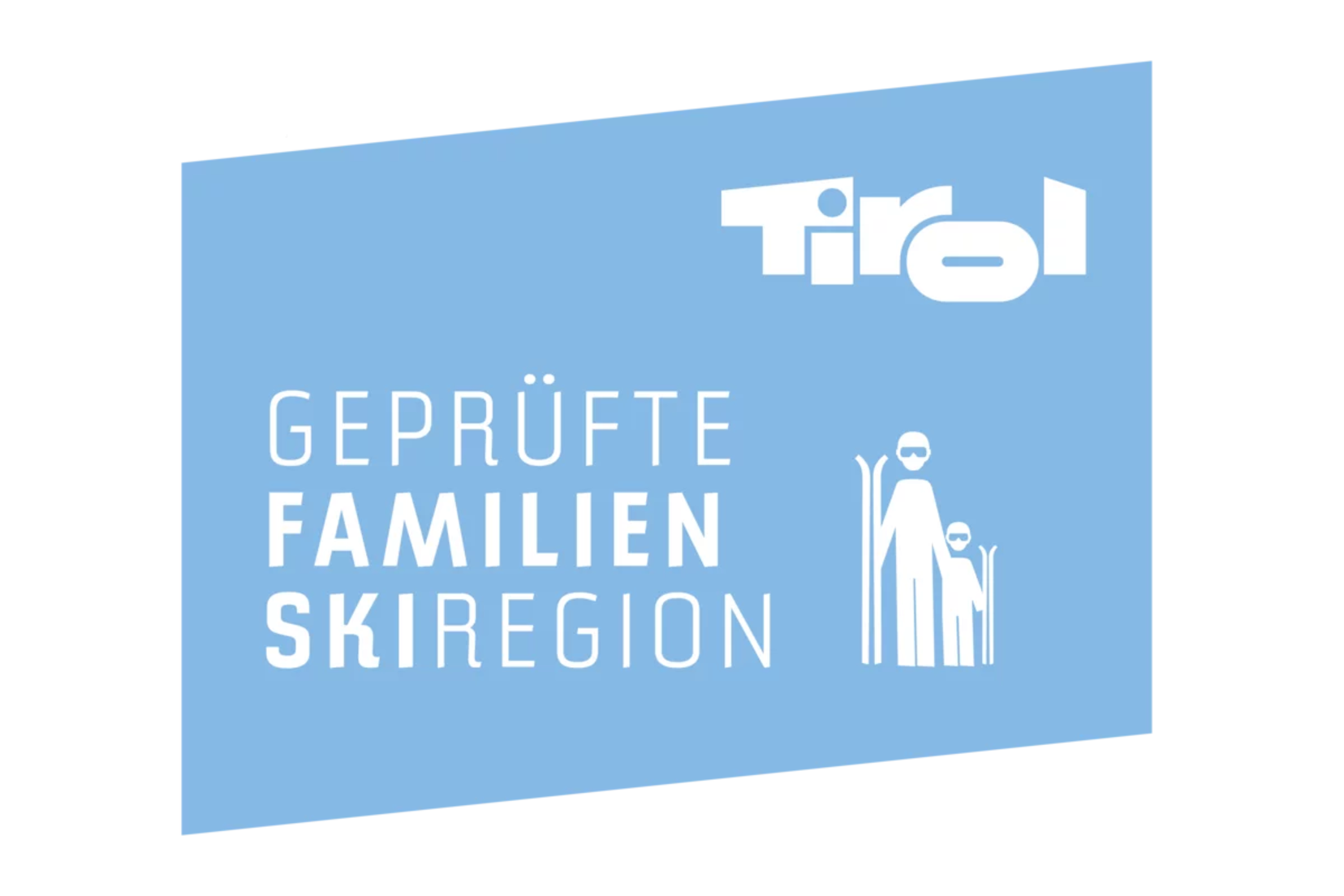 Winter fun away from the slopes
Besides skiing and snowboarding, winter fans can go on a variety of off-piste adventures. Families get to choose from an extensive range of leisure activities:
More about the toboggan runs

Building igloos at Ski Juwel
Before building an igloo, the whole family goes out to look for a suitable spot. Once it has been found, the dome-shaped snow house can be erected in a teamwork effort. Snow-building master Hans supports you throughout the entire process with helpful tips and tricks. He will tell you how to arrange the snow blocks in a circle, how to put them together correctly and how to close the igloo roof.
Good to know: This family activity lasts around two to four hours and is suitable for four to a maximum of ten people.
Want to become a snow architect? Make an appointment right away and spend a fun time with your family in the snow.
Contact details for booking:
Hans Hotter
+43 676 3662792
Family-friendly refreshment stop
While skiing or after a visit to the toboggan run: Stopping for a break is simply part of a wonderful family day in the Ski Juwel Alpbachtal Wildschönau. Take a seat in one of the family-friendly huts and enjoy culinary delights including dishes suitable for children! Amazing bonus: the view of the Tyrolean mountains.
All huts and restaurants in the ski area
Ski holidays with the whole family
The ski runs, the off-piste activities, the accommodation options and the huts: Winter in the Ski Juwel Alpbachtal Wildschönau is optimally geared to the needs of families. Attractive prices for ski tickets as well as top offers ensure that your family ski holidays won't break the bank.
Ski Juwel Easter Special:
From 16 March to 16 April 2024, you get an amazing goodie when you buy an adult ski pass for three days or more – namely a free ski pass for children up to the age of 15.
Have a look at the offer
Useful information on the family ski area
Get a quick and easy overview of how to get there, operating times of the cable cars and lifts, ticket prices and more!