Speedy descents with skill & style
Fun & Snow parks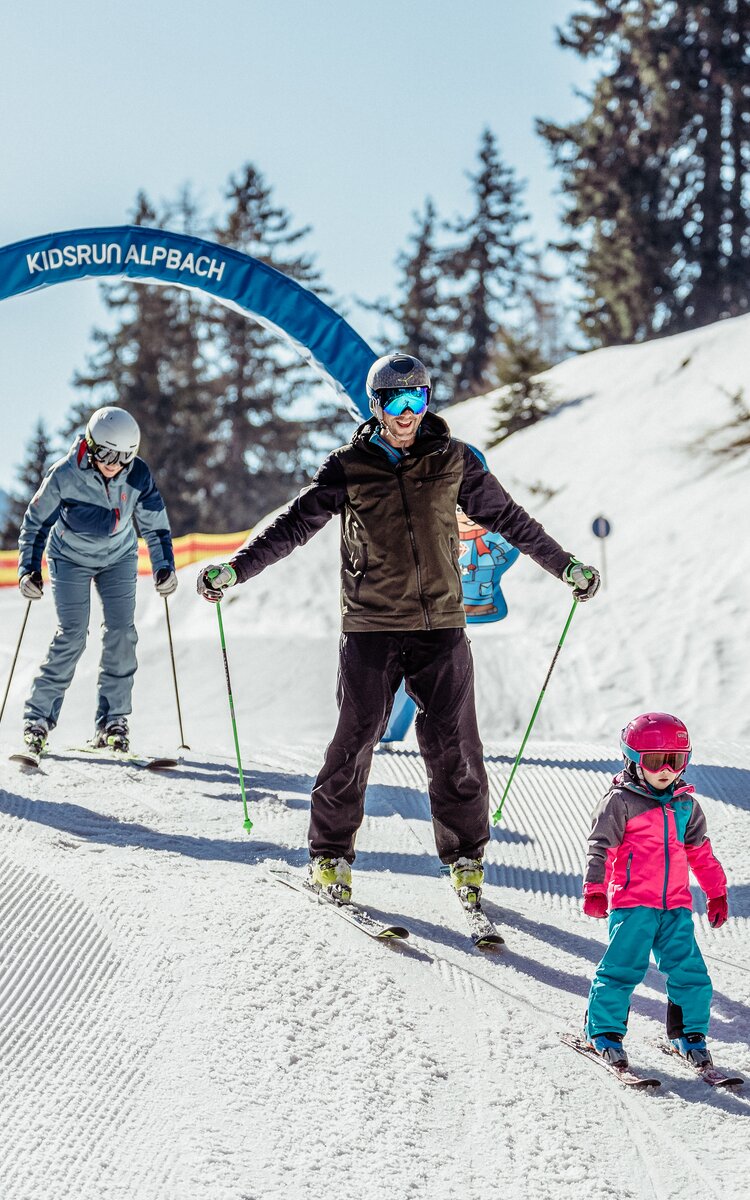 The boxes, kickers and rails in the snow parks at the Ski Juwel Alpbachtal Wildschönau invite adventurous winter sports enthusiasts to hone their skills and have a blast. Whether you already have freestyle experience or not, the fun parks are suitable for both experienced and novice skiers.
Snow parks and fun slopes in the Alpbachtal
Ready for maximum freestyle action? Then head for the Snowpark Alpbachtal! Daily reshapes and permanent supervision of the course ensure that conditions are optimal at all times.
Diverse slopes are waiting on Wiedersberger Horn
Around the Wiedersberger Horn, a variety of trails lead downhill. The Funslope ensures maximum fun for skiers of all ages. Challenges in the form of curvy passages, waves, snow tunnels and other fun elements have to be mastered.
The "KidsRun" is all about skating around figures and skillfully mastering waves and banked turns. Children can learn to ski in a playful manner there.
Slopes for children
Snow parks and training courses in the Wildschönau
Winter sports enthusiasts will find sunny slopes and maximum entertainment at the Schatzberg Snowpark. Various obstacles are equally challenging for newbies and pros. And if you need a breather in between, you can get comfortable in the Chillzone by the reservoir!
Depending on how much experience you already have, you can put your prowess to the test or practice your skills on the following obstacles:
Bumpy rides on Schatzberg
The name of the Wave Run on slope 6 on Schatzberg says it all. Big and small winter sports enthusiasts enjoy varied and exciting skiing fun on the 300-metre wave run.
Racing & training centre in Niederau
The racing and training centre is a meeting place for alpine acrobats, winter sports enthusiasts in a frenzy of speed and all those who want to swoosh from gate to gate like slalom stars. Since 1999, the slalom and giant slalom courses have been encouraging top performances. Those who want to improve can get free tips from an internationally experienced trainer who is on hand to advise ski fans in the supervised arena.
The racing and training centre in Niederau is an excellent training area for World Cup athletes. In addition, the area is suitable for company and club ski races. In 2004, the Alpine Ski World Championships for physically and visually impaired athletes were held there.
Contact details of the racing and training centre:
Manuel Haaser
+43 664 2667511
info@skimotion.at
Top ski area Ski Juwel Alpbachtal Wildschönau
From families with children to adventurous winter sports enthusiasts: The diverse range of ski runs consists of slopes and downhill runs for every ability and preference. And the leisure activities you can do off the slopes in the Alpbachtal and Wildschönau regions also impress with their rewarding variety.
Buy your ski pass online