the highest point in the ski area
Top of Alpbachtal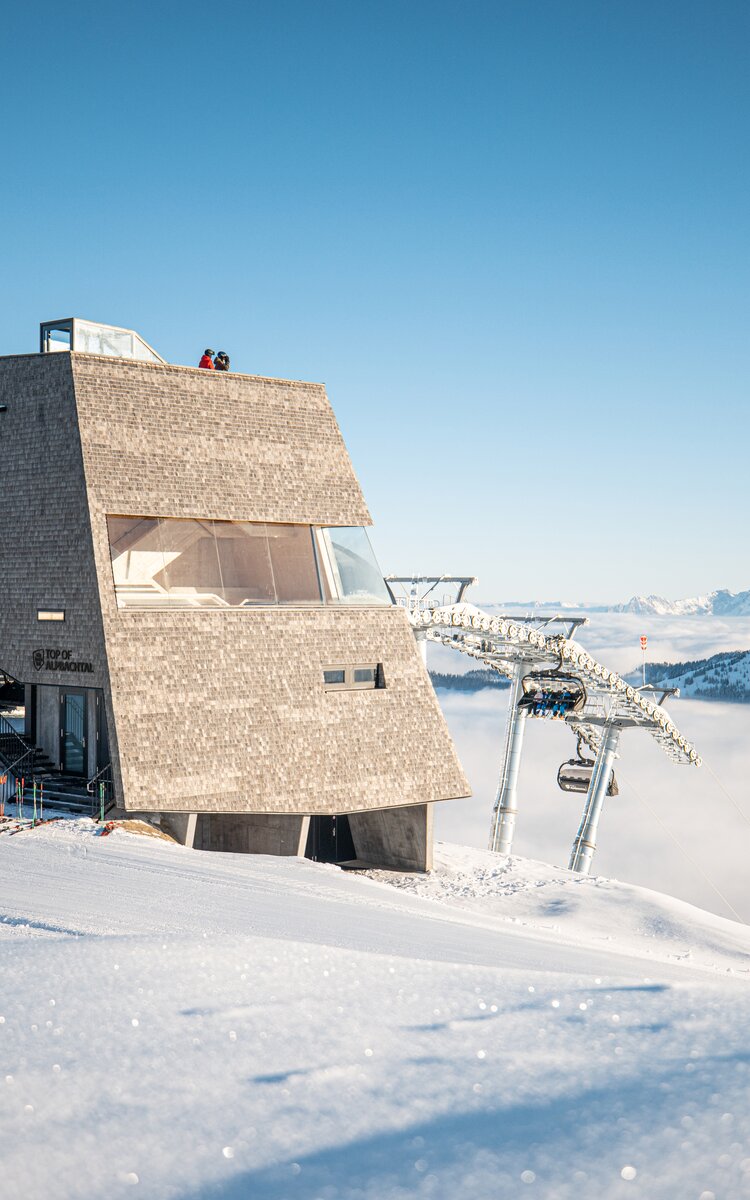 The "Top of Alpbachtal" viewing tower is an absolute highlight right at the top station of the Hornbahn 2000. Situated at 2,030 metres, it offers a unique panoramic view of the Tyrolean mountains from the highest point in the ski area.
The 13 metre high viewing point also offers an indoor area with a seating corner and large glass fronts that allow you to immerse yourself into the snow-covered Alpbach mountains.
Unique architectural design
In keeping with the tradition of the Alpbachtal region, the tower was built from wood and clad with around 25,000 handmade shingles. The large panoramic windows also provide light and a far-reaching view of the surrounding mountains - a Tyrolean parlour, architecturally reinterpreted by the Innsbruck-based architecture studio Snøhetta.
Take a break inside the "Top of Alpbachtal" and enjoy the marvellous view of the Alpbach mountains.
Hans Hausberger is one of the craftsmen who made the wooden shingles for the observation tower. In the video, Hans gives an insight into this special craft.
Off to the "Top of Alpbachtal"
In winter, the viewing tower can only be reached on skis or snowboard.
If you use the Wiedersbergerhornbahn gondola to access the ski area, you can then take the Gmahbahn or Kohlgrubenlift. From there, continue to the Hornbahn 2000 bottom station and comfortably take the chairlift up to the "Top of Alpbachtal".
From the top station of the Pöglbahn gondola, you can ski directly to the bottom station of the Hornbahn 2000 and enjoy a comfortable ride to the viewing tower.
Look at the piste map
In summer, the "Top of Alpbachtal" can be reached in about 30 minutes via the panoramic trail on the Wiedersberger Horn. The Hornalm, with its spacious sun terrace, is also in the immediate vicinity and invites you to enjoy a relaxing stop at the hut. Don't forget to hike up to the summit of the Wiedersberger Horn.
Please note: The Hornbahn 2000 chair lift is not in operation during the summer season.
More about the tour
3 more insider tips for the perfect holiday snapshot
In pursuit of the perfext holiday photo, a step through the archway into the Ski Juwel Alpbachtal Wildschönau is a gret insider tip. Just a few steps away from the Pöglbahn top station on the Wiedersberger Horn, you step through a unique, handmade wooden door and experience a fantastic view of the summits in the middle of the ski area.
On the Schatzberg, the summit cross is close enough to touch. Just a few metres from the top station of the connecting cable car Alpbachtal-Wildschönau, you can climd the 1,903 metre high Schatzberg in no time at all. A dreamy and instagrammable panorama also awaits within sight of the Markbachjochbahn top station. The chapel in the middle of the idyllic winter landscape with the mountains in the background is a popular photo location.
The result? Snapshos that make all followers jealous.